Our screen repair services are all performed by trained screen technicians. All of our technicians are knowledgeable of safety standards including hurricane safety regulations on screen enclosures. Pool Screen Repair Lakeland only uses Phifer screen which is the strongest fiberglass screen around.
Our Screen Enclosure Repair Services Include:
Panel Repair – Whether you have a one or many panels to repair, roof or wall, we will get the job done. Our screen technician will arrive at the scheduled time and inspect your entire enclosure including the roof panels. Many times, roof panel damage can't be seen from the ground. He will point out all panels with damage or loose. You then decide which panels to replace.
Rescreening – Trust the pros to do your rescreening. Sometimes just a screen enclosure repair will not fix the problem. If your screen enclosure is over 12 years old or if you notice most of the screens are brittle, torn or hanging, you may need to rescreen the enclosure. Our rescreening service includes:
Removal of all screen and spline
Proper disposal of all old materials
Installation of new Phifer 18 x 14 mesh screen and spline
Install new door kits and bug sweeps
Safety check all cables
Adjust doors if needed
Pet Doors – Do you spend a lot of time letting your pet in and out of the patio door? Why not install a pet door? We carry a wide range of styles and sizes to fit most any size pet. Problem solved!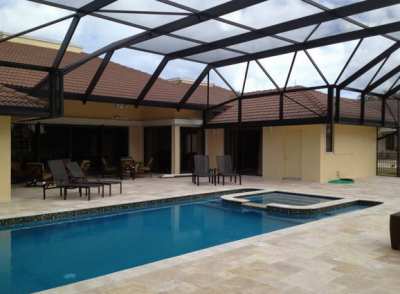 Types of Screen for Your Lakeland Enclosure
Standard 18 x 14 Mesh – This is the most common type of screen used for enclosures due to its strength and durability.
Pet Screen – Stronger than standard screen, this type of screen resists tears and punctures made by our furry pets. You still have outward visibility and the screen is not harmful to pets.
Privacy Screen – Commonly known as Florida Glass, this screen is vinyl laminated. Typical installation is along a wall of your enclosure for added privacy. It can also be used on the bottom row of your pool screen enclosure to help keep yard clippings and debris from coming into your pool.