Screen replacement is a vital job to keep your enclosure looking good and you'll want to use experts in the industry. We continue to be one of the most reliable screen companies in the Haines City area. You can rely on us to arrive when we say we are going to and know that we will use high quality screen replacement materials. We will perform a superior job on any of your screen repair needs. Our expert screen repair technicians understand what must be done to supply you with quality screen repair work.
Screen Replacement
Review entire enclosure, including the roof panels, to check for any panels with damage
You decide which panels you want to replace and we get to work
Remove and dispose of all old materials
Replace with Phifer standard 18 x 14 mesh screen and flat spline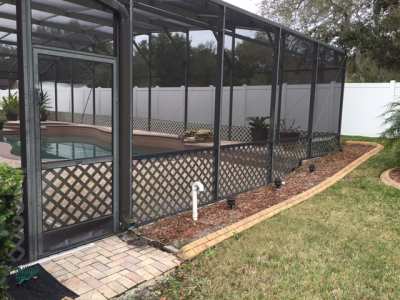 Our screen technician will never try to pressure you into any work you do not want. The reason for reviewing your whole enclosure is so you know of any damage you may not be able to see. If you only want one or two panels replaced, that's all we will do. Our pricing is up front and you will know the total cost of your job before any work starts.
Everyone likes to spend time in their pool or patio enclosure, you get outdoor living without all the insects and critters. One small hole or tear in your screen can let even the smallest of bugs in. If your Haines City screen enclosure is in need of a screen replacement, call on us to get the job done.
Other Haines City Screen Services:
Screen Enclosure Rescreening
Pet Door Installation
Screen Door Repairs